Read Time:
1 Minute, 41 Second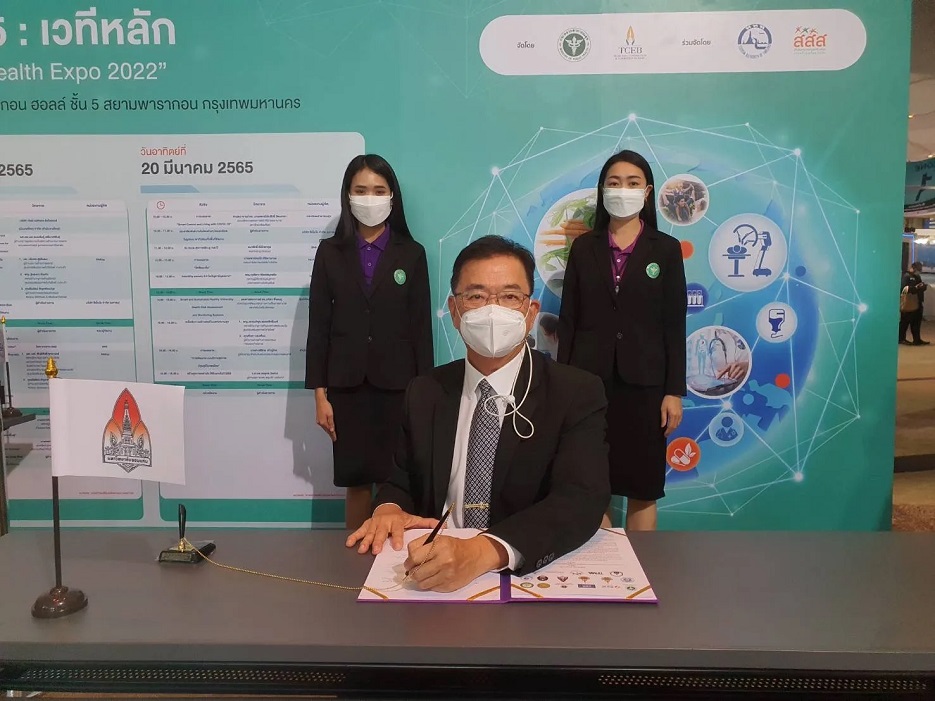 March 17, 2022 – Assoc. Prof. Charnchai Panthongviriyakul, M.D., President of Khon Kaen University assigned Assoc. Prof. Apichat Jirawutthipong, M.D., Dean of the Faculty of Medicine, Khon Kaen University, to represent Khon Kaen University and sign an MOU for development and promotion of Phase 2 of Thailand Wellness Hub, between Department of Health Service Support (HSS) and a network of 17 allies, including both governmental and private organizations, universities in the North, East, Isan, South and the Center; and wellness federations and associations. The aim is to drive forward developmental and promotional policies of Thailand Wellness Hub so as to become an international medical hub. The MOU signing was held at the Thailand International Health Expo 2022, which took place at Royal Paragon Hall, 5th Floor, Siam Paragon.
The frame of references of the MOU and the collaboration are aimed at integration of missions and coordination of joints among the network organizations and universities in driving forward the governmental policies on Thailand Wellness Economic Corridor, the innovation region for promotion of health research, innovation development, development of health promotion service and wellness innovation backbone, development of health buildings, strengthening personnel competency in order to effectively carry out the wellness industry, and to ultimately become an international medical hub. The collaboration will last 5 years from March 17, 2022 until March 17, 2027.
Thailand International Health Expo 2022 is a great exposition event that demonstrates the potentialities and readiness in medicine and public health of Thailand. It is held to build confidence among Thai people and foreigners to see the competency, readiness, and advances in medicine and public health of Thailand. The event also assists in provoking economy, promoting the country in becoming a world Medical and Wellness Hub, upgrading and adding values to Thai herbs, Thai traditional medicine, and Thai wisdom in health care, as well as supporting collaboration between health and Thai traditional health entrepreneurs and health entrepreneurs all over the world.
Support content : https://m.kku.ac.th/12885