Read Time:
2 Minute, 3 Second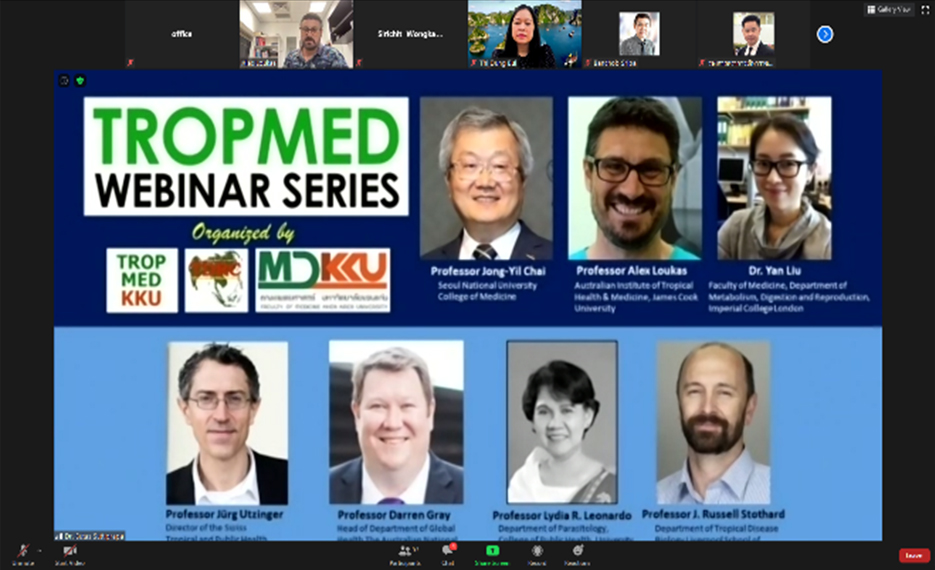 On June 22, 2021, the Tropical Medicine Graduate Program, Khon Kaen University held their 3rd Tropical Medicine Webinar on the topic "Helminth vaccines: from pre-clinical concepts to human efficacy trials" expert presenter Professor Alex Loukas, Distinguished Professor Australian Institute of Tropical Health & Medicine, Centre for Molecular Therapeutics James Cook University, Cairns, Australia.
The welcome speech was given by Assistant Professor Sutas Suttiprapa, Director of the Tropical Medicine Graduate Program, KKU-MD, who welcomed the opportunity to learn and share insights about "Helminth vaccines: from pre-clinical concepts to human efficacy trials."
The presentation explained the Life cycle of Necator americanus, or hookworm. Living in the small intestine, they   attach to the lining of the intestinal wall and suck blood and vitreous from the intestines. The female worm can lay 6000-20000 eggs per day, which are expelled with feces. With appropriate temperature and humidity, the larvae emerge from the egg in 1-2 days, and as first stage larvae, rhabditiform larvae, grow in soil or feces. They then molt into second stage embryo, in 5-10 days, and develop into the third filariform embryo in 5-10 days. These can penetrate   human skin and migrate into the veins, the heart, the lungs, from the lungs, into the esophagus, then the stomach and into small intestines.  Most older hookworms are evicted in one to two years but some can live for many years.
As a possible solution to hookworm infection a vaccine is in testing to increase the number of white blood cells Eosinophilia, which are responsible for preventing helminth infections, allergies, and tissue inflammation. Approximately 450 Eosinophil cells are normally found in the blood. Following vaccination, significant reductions in hamster fluke load has been found.
In conclusions TSPs appear to be good vaccine antigens and gene silencing (RNAi) and preliminary gene knock-out (CRISPR-Cas9) studies suggest that TSPs are essential-lethal phenotypes.
Future helminth vaccine directions
-Assess impact of vaccination on CCA in hamster model
-Explore other oral delivery methods that can be translated for human use (liposomes, chitosan nanoparticles)
-Probe proteome array with sera from protected mammalian hosts (eg. irradiated metacercariae)
-Test multivalent constructs or chimeric antigens
Written by Miss Taksaporn Vongsa-Nga
Mister Adisorn Tadsakorn
Edit by Professor John F Smith