Read Time:
2 Minute, 50 Second
During the COVID-19 pandemic, the Faculty of Medicine Khon Kaen University has collaborated with many parties on 6 innovative devices for increasing safety and medical care.
Long Range Stethoscope
The stethoscope is a commonly used medical instrument for checking hearth beat and lung function.  Stethoscope use requires the doctor to be close to the patient which could endanger both patient and the doctor during this crisis. Associate Professor Sarawuth ChaiMool, fom the Department of Electrical Engineering, the Faculty of Engineering and Dr. Auttipat Arunsawat, from the Faculty of Medicine and Mr. Chinchoti Vetsawanitchakul, second year engineering student invented a long-range stethoscope using wireless technology. This reduces the need for close contact between the patient and the doctor thus reducing the chance of disease transmission.
---
PAPR Suit (Powered Air Purifying Respirator)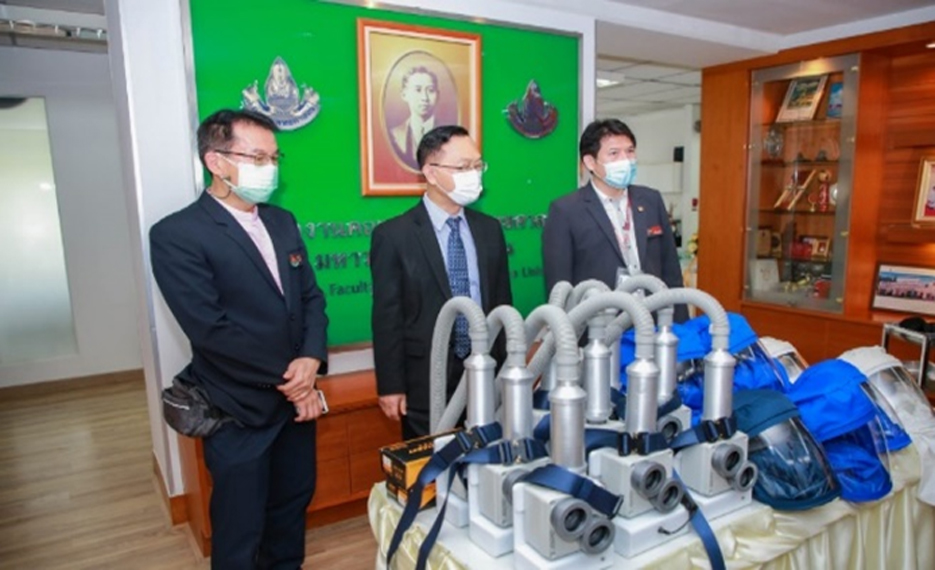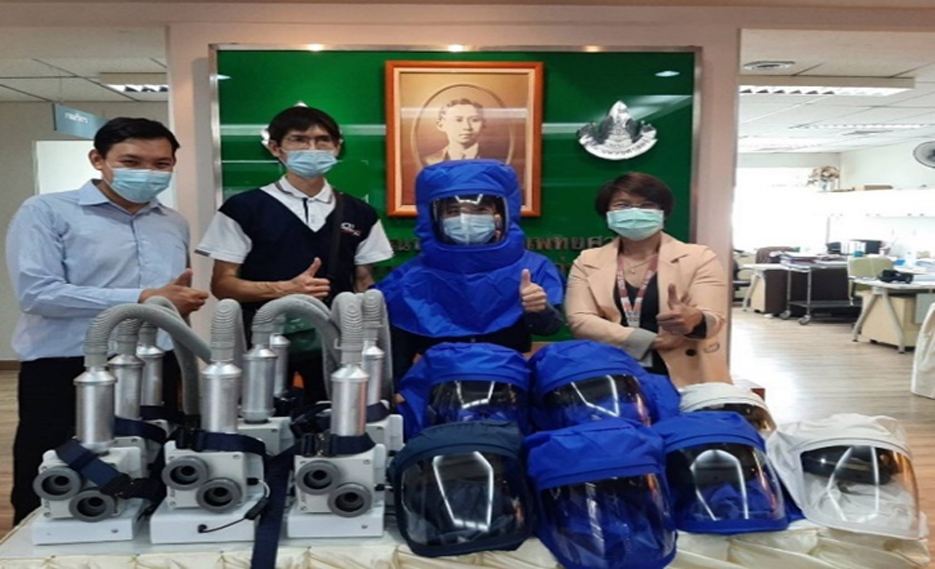 The Powered Air Purifying Respirator (Suit PAPR) draws fresh air through a Virus Filter and is 99.99% effective in filtering bacteria and viruses. It also has a noise cancellation system to prevent noise while in use.
---
Battery (PAPR)
The Lithium-Ion Battery Institute, Khon Kaen University has now produced more than one thousand batteries (PAPR medical devices). For delivery to The Ministry of Public Health and hospitals all over the country. Scheduled for November to December 2021. It will also reduce the cost of purchasing commercial equipment.
---
Ozone Generator, Brand Prozone, Model Modified PZ7-2HO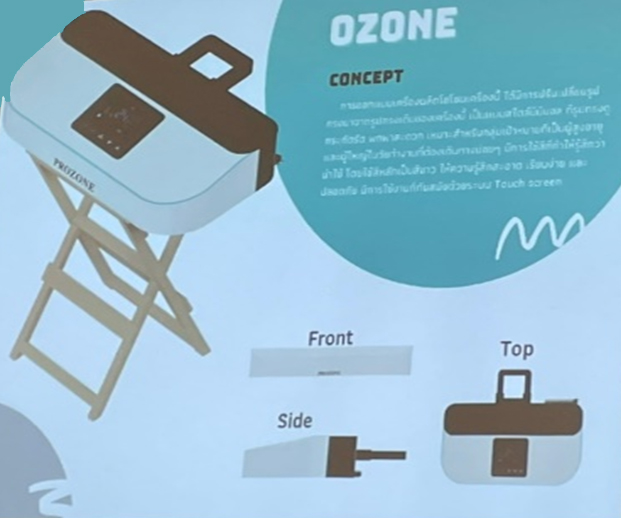 The Ozone Generator, Brand Prozone, Model Modified PZ7 – 2 HO is a bacteria and viruses.
The Ozone Generator converts oxygen to ozone that can penetrate deep surfaces and disinfect well-enclosed space. It has been used to disinfect masks, materials, and PPE suits for medical personnel. It is now being further developed for use in hotel, office, and household setting.  The Innovation and Enterprise (KKU-innoprise) Group, the Faculty of Architecture and Northeast Science Park are working with students on this design and development project.
---
TOT-KKU SWAP Test Box (Positive Pressure)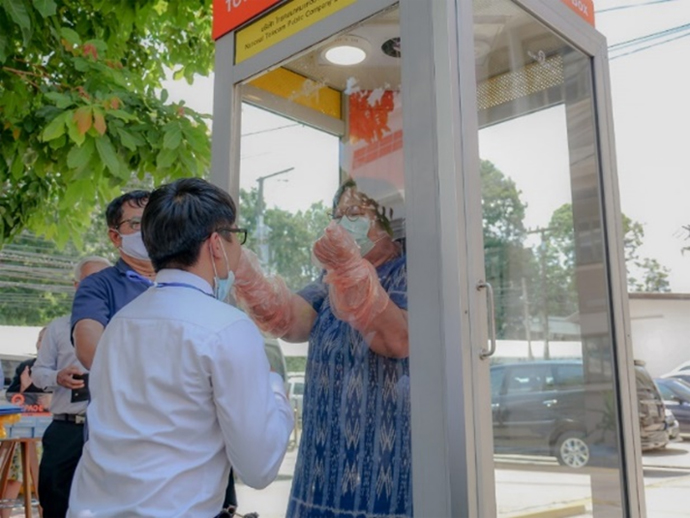 TOT-KKU SWAP Test Box (Positive Pressure) is a device for increased safety for health workers and patients during COVID-19 testing. Converted from an old public phone booth donated by the National Telecom Public Company Limited, a UVC lamp and fan have been installed for air sterilization and ventilation system. Wheels for easy movement. The door has been modified with a magnetic open-close  system and there is a tray to hold medical equipment.
---
Service Robot (TEMI)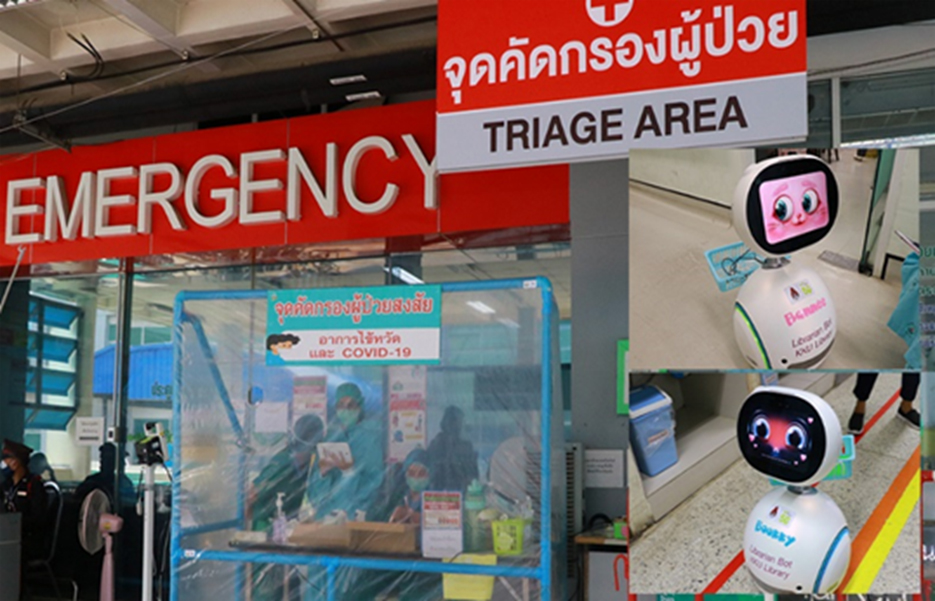 The KKU Library has also contributed to stopping COVID-19 transmission by donating Librarian robots to Srinagarind Hospital for servicing patients. The robots can be controlled via mobile phone or tablet with a real-time streaming option to allow doctors to examine high risk patients from a safe distant. A basket can be attached to the robot to allow medicines to be delivered to patients. This invention is another excellent solution for minimizing contact between patient and doctor to reduce the spread of Covid-19.
---
"Time Line Map" showing COVID-19 patients linkages to assist medical management
KKU Smart City Project works with the government and private sector, via using KKU Science Park to build technologies and innovations that will contribute to community.
The Time Line Map will support the government to manage to COVID-19 patients in the area and those returning to Khon Kaen.
Written by Miss Taksaporn Vongsa-Nga