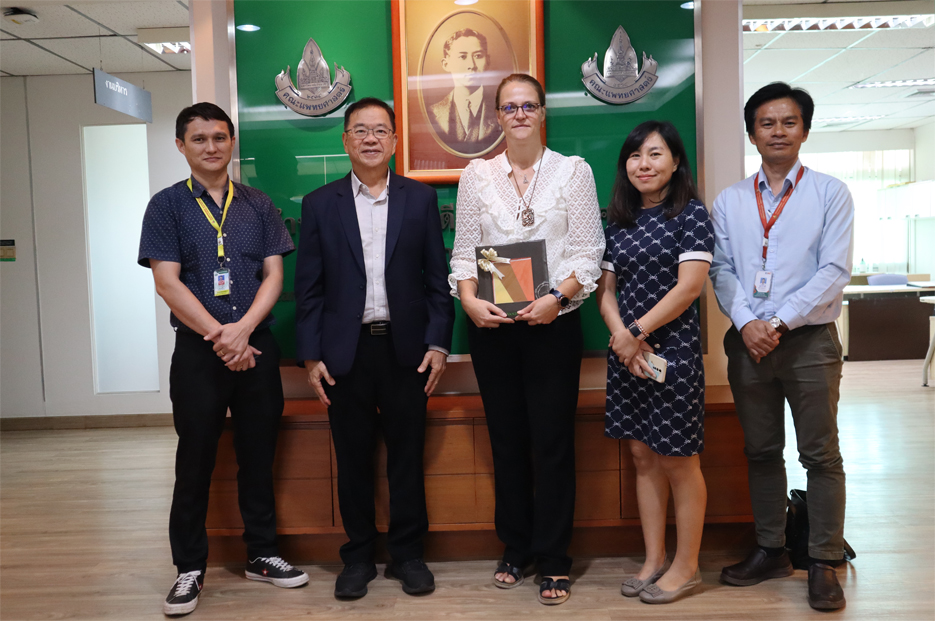 On October 26, 2023, Assoc. Prof. Apichat Jiravuttipong, MD, Dean of KKU Faculty of Medicine welcomed Professor Nolwenn Dheilly, Head of the Pathogen Discovery Laboratory, Institut Pasteur, Université de Paris, France to our faculty.
Professor Dheilly's research includes epidemiological investigations following outbreaks of known and unknown origins, characterization of virus enzootic cycles, development of diagnostic tools, and fundamental research aimed at the development of novel therapeutic and preventive strategies.
She participated in the MD-KKU overseas visiting professor program in our Tropical Medicine Department between October 23 and 27, 2023 and gave a guest lecturer on "Metagenomics to identify novel and unexpected pathogens for improved diagnoses and prevention: From coronaviruses to arboviruses and viruses of parasitic worms."
The Department's staff led by Assoc. Prof. Sutas Suttiprapa also attended the meeting to discuss guidelines for NIH Research Project Grant Program (RO1), academic support provision in developing collaborative studies in Tropical Medicine and supervision of staff and students in relevant subjects.
Reporting by Sathaphorn Onlamun
Editing by Prof. John F Smith