Read Time:
1 Minute, 33 Second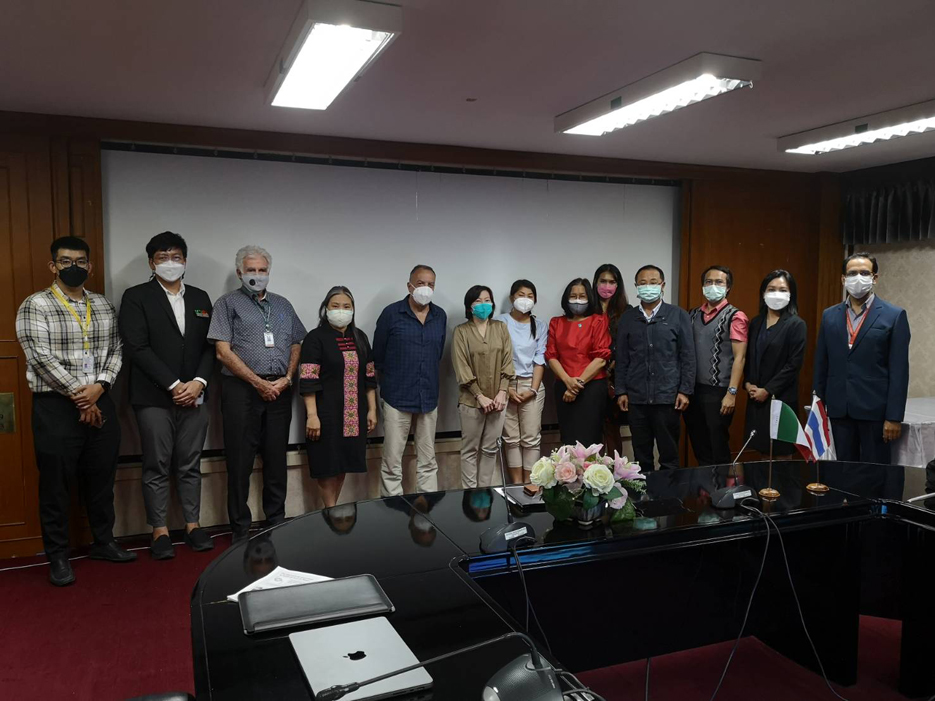 on February 24, 2022, Associate Professor Wimonrat Sriraj, MD, Associate Dean for Research and International Affairs, MD, welcomed Dr. Andrea Grillo from the Italian Society of Nephrology and Azienda USL Toscana Nord Ovest Local Health Unit Northwest Tuscany, Italy, to a meeting with colleagues from MD-KKU Chronic Kidney Disease Research Team.
The meeting, held in Kawee Tungsubutr Meeting Room, MD-KKU, was to exchange and compare academic knowledge and management of Kidney Disease prevention for populations in the northeast region of Thailand and in Meso, or, Central America Continent: Nicaragua.
The meeting discussed possibilities for cooperative research projects between relevant teams across Thailand, Italy, and Nicaragua.
Speakers at the meeting were:
Dr. Andrea Grillo, PhD, on "CKD in Nicaragua",
Associate Professor Sirirat Anutrakulchai, MD, CKD Research Group, MD-KKU, on KKU "CKD Net", and
Assistant Professor Dr. Ubol Cha-on, CKD Research Group, MD-KKU, on "Community/ Basic research to detect the root of problems and for sustainable correction"
Others Thai delegates who participated in the meeting were:
1) Dr. Jutarop Petcharaburanin, MBBS, PhD, Assistant Dean for Research and International Relations
2) Professor John F. Smith, PhD, International Relations Office
3) Professor Somchai Pinlaor, PhD, Parasitology Department
4) Dr. Amod Sharma, PhD, CKD Research Group
5) Assist. Prof. Dr. Ratthaphol  Kraiklang from the Public Health Faculty, Khon Kaen University.
6) Dr. Apinya Jusakul, from the Faculty of Associated Medical Sciences, Khon Kaen University.
7) Dr. Apisit Chaidee, from the Parasitology Department, Faculty of Medicine, Khon Kaen University.
Here is a news link about KKU's Sustainable Development Goals (SDGS): Chronic Kidney Disease Prevention in the Northeast of Thailand (CKDNET) https://www.kku.ac.th/12104.
Reported by Duangsamorn Chankwang, IR Office, MD-KKU