Read Time:
1 Minute, 33 Second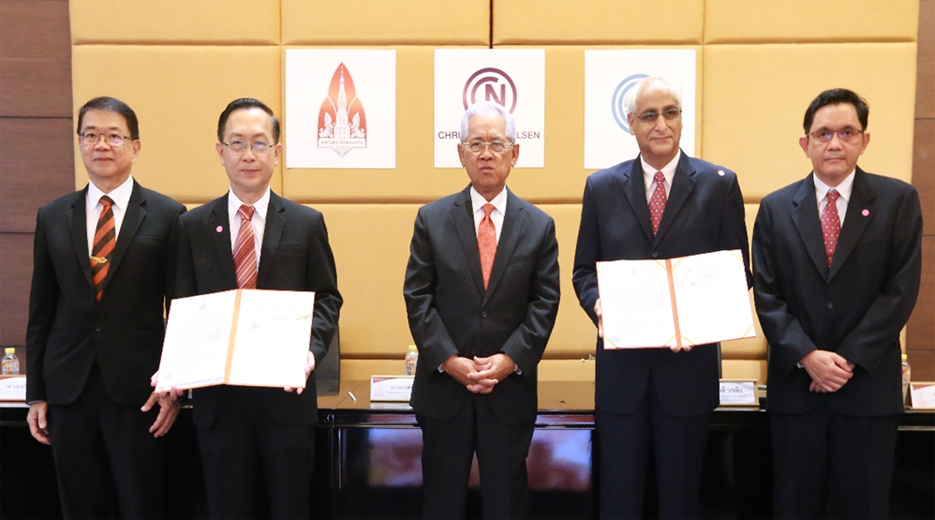 On September 15, 2020, the signing ceremony for the construction of Medical Hub between Khon Kaen University and Christiani & Nielsen (Thai) Public Company Limited was held. The delegates from each side include Associate Professor Charnchai Panthongviriyakul, President of Khon Kaen University and Mr. Khushroo Kali Wadia, Managing Director and Executive Director of Christiani & Nielsen Thailand Public Co., Ltd. Khon Kaen University also signed contact with Arun Chaiseri Consulting Engineers Company Limited from which Dr. Piyawat Chaisayree is the representative to supervise the construction.  In this occasion, Associate Professor Apichat Jiravuttipong, Dean of the Faculty of Medicine, Khon Kaen University (MDKKU) and Dr. Narongchai Akrasanee, President of the Khon Kaen University Council also presented themselves as the witnesses.
The construction of Medical Hub contains budget over 4,000 Million Bath. The completion of Medical Hub will increase the service area of Srinagarind Hospital by 120,000 square meters. With these large areas, there will be 600 beds, 25 operation rooms, and 117 ICU rooms as well as 400 units of patient's relative housing and a parking building for 1,000 cars. The construction of Medical Hub does not only expand the service area for Srinagarind hospital but also it serves as the training facility for medical staff, meaning that it will also be increasing the training capacity for extra 150 clinicians per year. This also includes the enhancement of research and innovation sector to become even more effective. The construction of Medical Hub will benefit not only northeastern of Thailand where it's located, but it will benefit the surrounding regions as well.
The Medical Hub will bring the MDKKU, another great steps closer to being world class medical school and an important milestone for the MDKKU prior to the commencement of their 5th Decade in 2022.
Written by: Natakon Naowarojna
Edited by: Dr. Jutarop Phetcharaburanin