Read Time:
1 Minute, 37 Second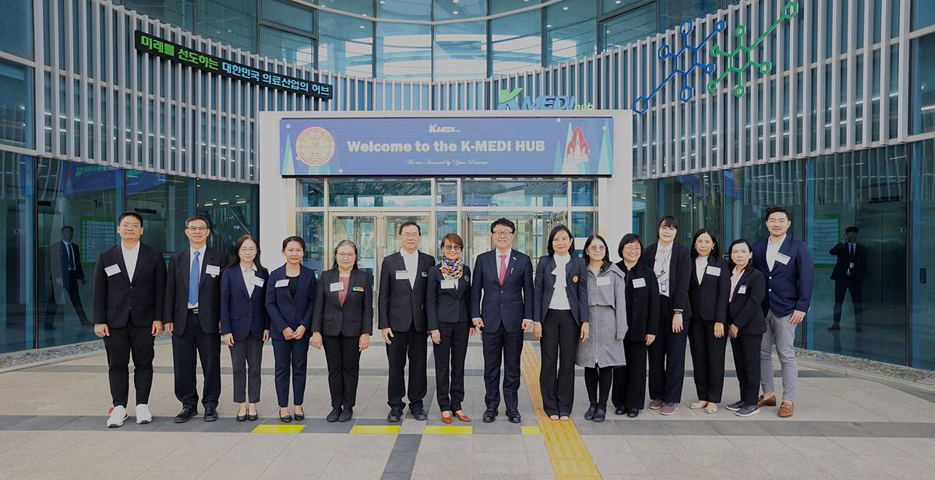 Delegations from Khon Kaen and Thammasat Universities visited K-Medi Hub (Daegu Gyeongbuk Medical Innovation Foundation) for meetings on international cooperation and medical joint research between April 8 and 12, 2023.
The visit's objectives were to develop international cooperation in medical research between K-MEDI Hub, Thammasat University (TU) and Khon Kaen University (KKU) through discussions on health science researcher and human resource development between Korea and Thailand, and to develop a Memorandum of Understanding (MOU) process for this cooperation.
There were 13 administrators and researchers participating in the meeting led by Prof. Juntra Karbwang Laothavorn, MD, President of SIDCER-FERCAP Foundation and Committee of Academic Clinical Research Office (ACRO) KKU-MD, Assoc. Prof. Apichat Jiravuttipong, MD, Dean of KKU Faculty of Medicine, together with KKU-ACRO administrators, and Prof. Kesara Na–Bangchang, Director of Drug Discovery and Development Center together with Thammasat University administrators.During the visit Thammasat University took this opportunity to formally sign an MOU with K-MEDI Hub on April 10, 2023.
K-MEDI Hub is a state of the art research and development center under the Ministry of Health and Welfare of Korea located in Medi-valley, Daegu, Korea. Its vision is "To become a global R&D business hub leading the world's advanced healthcare industry by 2025". It is led by Dr. Yang Jin Yong, K-MEDI Hub and Prof. Maria Im Hee Shin, FERCAP Korean Coordinator.
This visit furthers KKU-MD and other KKU health science institutes plans for international research collaboration and human resource development.  It also provides more opportunities to collaborate with the private sector for clinical research and commercial implementation of research outcomes and innovation.
Sources: https://www.ajunews.com/view/20230411171532745#_enliple
                https://www.kmedihub.re.kr/eng/index.do
Reporter: Chatsiri Jesadakultavee
Writer: Sathaphorn Onlamun
Editor: Prof. John F Smith